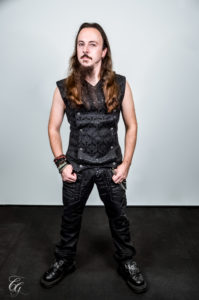 Birthdate: 07/30/1986
Co-founder/Keyboards, Principale Composer, orchestrations.
Instruments : Roland Juno-D / Korg Krome / Sustain & Expression pedals
Starting at age of 12 to reproduce songs heard here and there, on his sister's keyboard.
At 17, he heard Epica's "The phantom agony" at the corner of a music shop, but it's really by listening to nightwish's "Wish I had an angel" and "Nemo", on polish channel that the symphonic metal appeared as an evidence, both in terms of musical style of favorite instrument choice.
After being part of several projects for nearly 10 years, always by himself, Midnight Sorrow is born.