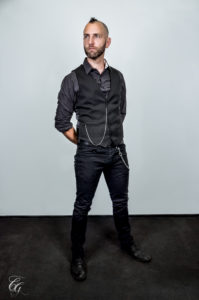 Birthdate: 02/18/1984
Bass: Write bass parts
Instruments: Squier Precision Bass Vintage Modified / Tech21 Vt bass Character Series pedal
William got his start in music early, with the classic combination music theory/flute, then focused on the saxophone for several years in a harmonic orchestra.
Very eclectic, his interest is not to play a particular style of music, but simply the fact of playing with other people something that form a coherent thing. This little thrill that causes two musical lines that go great together naturally led him to look a little at the composition.
After a few years, during which he set the musical practice in the background, the test on a whim of the guitar, although lately, brought him some new energy to the thing. Soon, his first electric guitar and bass were purchased for learning by himself.
Some adventures in several bands and cover bands, guitar or bass, mark the most serious resumption to the music.
With the symphonic metal, that perfectly meets what he likes in music, William applied when Midnight Sorrow seeks its new bassist.